Wet Paint Spraying/ Stove Enamelling In Wolverhampton/West Midlands
Wet Paint Spraying / Stove Enamelling is commonly used on metal components and is a wet-paint process using special stoving paint. The Stove enamelling paint is spray-applied and then cured in an oven. Stove Enamelling produces a durable, high quality finish which resists corrosion.
A wide selection of colours, glosses and other finishes are possible for the Stove Enamelling process.
Wet Paint Spraying can also be used for items which cannot tolerate the high temperatures involved in the powder coating process. Items suited to wet spraying include plastics, fibreglass, reinforced plastic (GRP), and electronics. Like powder coating, wet spraying - also known as spray painting - provides a robust yet attractive finish with a wide range of RAL and BS colours to choose from, including metallics and even custom spec options.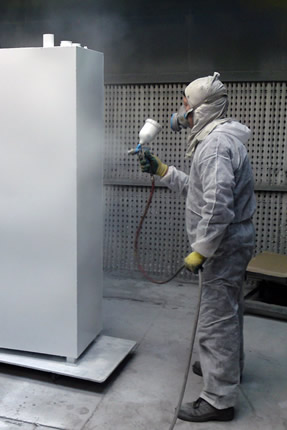 Spray Painting in Wolverhampton, West Midlands by Protech Coating